Ezy-Install® – The unique acoustic roll down magnetic installation system with dual bond fixing strength
Ezy-Install is a unique flooring solution that incorporates dry tack adhesion with magnetic technology. This solution delivers a roll down acoustic underlay with superior sheer and peel strength over standard magnetic systems. 
Developed in collaboration with IOBAC, the patented resin technology combines with a recycled rubber pad layer creating a unique magnetically receptive base. Magnetic backed tiles or planks are simply installed on top or standard carpet and loose lay vinyl tiles can be attached using MagTabs. By combining the resin tack adhesion and magnetic attraction, there is a dual grip between the underlay and floor finish, maximising resilience to high foot traffic. Yet for repair, maintenance or when the time comes for a design change, the tile can be removed undamaged in a matter of seconds, without the need for specialist contractors.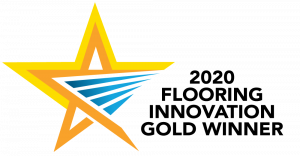 Over the past few years the flooring industry has been moving away from installation processes that require high levels of subfloor preparation and traditional wet adhesives. This market shift is in response to the high labour and material costs involved in subfloor preparations, moisture mitigation treatments, messy traditional adhesives and the need for environmentally friendly installation processes allowing floor coverings to be easily recycled. Single use plastic materials are now being avoided and there is a growing requirement for easy recycling of these flooring products. Vinyl tiles, when installed in the traditional way with adhesives, cannot easily be uplifted and recycled because of contamination by adhesive residue and floor levelling compounds. Ezy-Install provides one of the best options for moving away from traditional adhesives, reducing subfloor preparations, dealing with moisture mitigation, and allowing easy recycling.
For further information on the Ezy-Install product please get in touch
Read more
Benefits of Ezy-Install
Dual grip provides maximum durability compatible with a wide range of floor coverings
Dry laid system that can be installed over a new or existing floor
Provides a high-performance vapour barrier for moisture mitigation
New floors can be walked on immediately
Provides excellent impact sound reduction
Hygienic, naturally anti-microbial and anti-allergy
Environmentally friendly and recyclable
Performance:
Acoustic Performance: 17dB (2.5mm) / 23dB (3mm)
Vapour Transmission Rate: 0.09 g/m2/day
Vapour Resistance: 2887 MN s/g
Suitability:
Luxury Vinyl Tiles
Ceramic Tiles
Engineered Wood Flooring
Carpet Tiles
Applications:
Retail Spaces
Hospitality and Leisure
Workspaces
Residential/Student Accommodation
Want to know more?